Monthly Headband Subscription
$16.49
Looking for our alligator clip subscription? Click here.
Unsure what size is best for you? Click here for our bow guide.
*Our original subscription set varies each month and can include piper, mini piper and/or skipper knot bows.
*Our baby subscription will include three baby versions of our original set.  For example, if the original set contains three mini pipers the baby subscription will include three baby pipers bows. The baby will include smaller versions of the bow styles in the original set (baby piper, baby skipper knot, etc.)

Monthly bows ship at the end of the month between the 25th and the 30th.
*If you subscribe with a coupon/sale, price will return to original price the following month.
You might also like
Customer Reviews
Write a Review
Ask a Question
10/06/2020
Allison P.
United States
Very cute
These bows are so cute and they shipped quickly!
10/05/2020
Jacquilyn S.
United States
The best bow
Love receiving our monthly bows. In fact, we look forward to it! I love that the elastic is a lil bigger compare to the other brand of bow subscription I tried, so it doesn't leave a deep red mark on my babe's head. I also love the material, the sizing is just perfect not to mentioned the designs of every bows.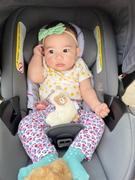 09/04/2020
Brittany H.
United States
Gorgeous
Love the colors and the quality! We have been getting the monthly subscriptions for almost a year now and couldn't be happier!
09/04/2020
Melinda D.
United States
Love these bows!
These bows are so cute and fit my daughter well. They are so well made and the perfect size. We always get compliments when she wears them.
JS
08/05/2020
Jennifer S.
United States
Very cute!
I won't meet my little girl for almost 2 months, but I'm excited to use these bows! Super cute, and I love the pretty colors & fabrics.